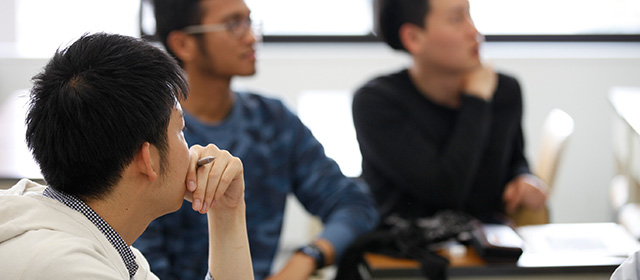 Current Students [2018-19]
Note that these instructions are for exchange students participating in JYPE, IPLA, COLABS, DEEP, and DEEp-Bridge.
Important Notice: Student Exchange Division will send you emails during your exchange terms. Please check your registered email account regularly and read carefully for the latest information. When you contact the Student Exchange Division, make sure to write your Name, Student ID and Program clearly in the message.
Things to Submit/提出書類
(NEW EXCHANGE STUDENTS ONLY/新留学生のみ)
All new exchange students need to submit following items via online systems. Complete STEP 1 & 2 below before the deadline.
Copy of Passport (Photo Page + VISA Page 

+ Entry-Date Stamped Page

)
Copy of Residence Card (Front side + Back side)
Copy of National Health Insurance
Copy of Certificate of Residence/住民票
SUBMISSION DEADLINE: October 15, 2018/提出期限:2018年10月15日
Program Guide & Course Registration
(FALL SEMESTER 2018)
Read your program materials carefully and register courses by the deadline set by each program.
Important IDs
There are several identification information you need to keep:
Residence Card: This is an official permission to reside in Japan and the residence card must be carried at all times during your stay in Japan.
Student ID: It verifies the holder's status as a Tohoku University student. The Student Exchange Division notifies you when it's ready for collection.
Tohokudai ID: Enclosed in the envelope provided when your dormitory check-in. This is to access university Portal Site.
Tohoku University Portal Site
Through the Tohoku University Portal Site, you will be able to access:
Student Affairs Information System to check your registered courses and grades.
ISTU (Internet School of Tohoku University) to submit documents and reports.
Photo Shooting during the Program
During the exchange program, we will take photos and some videos of you in our events, which may be used for publicity on our website or leaflets etc. Please let us know in advance if you do not want us to use them.
JASSO Scholarship
(FALL SEMESTER 2018)
As explained in the JASSO Scholarship Guidance, for those who receive the JASSO scholarship, you are required to do following:
For other conditions, please read [JASSO Guideline] carefully.
NEW STUDENTS: In order to transfer the first stipend, new JASSO scholars are required to submit Transfer Request Form (Example on page 2/ Signature required) and copies of bank book to the Student Exchange Division, no later than October 10, 2018. Otherwise you will not able to receive the scholarship.
Certificate Request/Temporary Leave Notification
Certificate Request Form
If you need a certificate issued by Tohoku University, fill in the Certificate Request Form online. In case you have your own form, upload it to the online form and explain in the comment field. When it's ready, you can pick up here at the Student Exchange Division.
Temporary Leave Form
If you leave Japan temporarily during the exchange period, submit a Temporary Leave Form. Make sure your academic advisor has agreed your travel plan before submitting this form.
Campus Life
Health and Safety
Staying healthy and safe is the most important thing for making the most of life at Tohoku University. If you are not feeling well, refer to the Student Health Care Center and counseling services and local medical facilities information.
Counseling and Disability Services
If you encounter difficulties and/or feel anxious, please do not hesitate to visit the Center for Counseling and Disability Services [leaflet].
Consultations in English are available for free of charge. The details of student problems will be kept strictly confidential. 
To use their services, please contact by e-mail (available prior to your program starts) or visit the Center directly.
Health Checkup
The Student Health Care Center provides Chest X-ray check up in November. [English/日本語]
Annual checkups: in April for freshmen, and in May for other students. Students are advised to take advantage of the opportunity: [English/日本語]
Safety Confirmation System
Register your email address to confirm students safety in the event of major disasters [Outline English/日本語]. How to register: PDF (Student Affairs Information System)/ App download: iphone /Android
University-wide Safety Confirmation Drill: November 12
J-Alert System: In the event of a missile strike
In the case of a ballistic missile threat to Japan, the government will issue an emergency warning using the J-Alert system. For details of what to do in case of such event, see our website.
IT Services
For a technical problem regarding Student Portal (SRP, ISTU, Student Affairs Information System etc.), visit the Center for Information Technology in Education, 5F, Multimedia Education and Research Complex on Kawauchi Campus [Map]. In case you have forgotten your Tohokudai ID and/or password, contact the Student Exchange Division.
Travel & Transportation
Campus Bus and Aobayama Shuttle Bus
There are free bus services for Tohoku University students and staffs.
Public Transportation in Sendai
Refer to the Subway and Bus Commuting Guide for public transportation in Sendai. Since bicycle accidents are on rise recently, please bear in mind that you should obey traffic rules and be careful when you ride bicycle. City bus/Subway Passes are available for students at a discounted price. Note that exchange students cannot get student discount for JR (Japan Railway).
Links
Contact
Student Exchange Division [Map]

+81(0)22-795-3745


 studyab@grp.tohoku.ac.jp