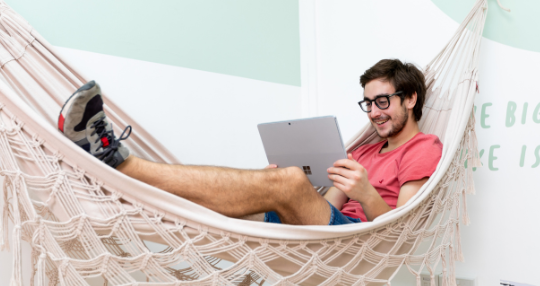 APRU Virtual Student Exchange (APRU VSE)
The Association of Pacific Rim Universities (APRU) offers Virtual Student Exchange (VSE) programs.
The students from member universities take online courses and earn credits through "Academic Courses" and take culture courses through "Co-curricular Programs".
1. For Tohoku University Students
Program Overview
Participating Universities
Please refer to the APRU VSE website
Program Duration
Season 1: offers regular-term courses with starting dates from July to December
Season 2: offers regular-term courses with starting dates from January to June
Season 3: offers intensive, short-term courses between May and August
Eligibility
Undergraduate students currently studying at Tohoku University.
Language Requirements
The majority of academic courses offered through the VSE are taught in English. However, some courses on offer are taught in other languages. The language of instruction of a course can be found on the course details page of each course offering university.
Fees
No additional fees are required to take VSE courses. Pay your regular tuition to Tohoku University only. Any additional fees, if required, will be detailed under each course or program.
How to Apply
Season1 (Autumn semester, 2023-2024)
Courses
Please refer to the APRU VSE website
Deadlines
Differ depending on the courses.
Application Procedures

1. Review the VSE outline and requirements at the APRU VSE website.
 
2. Obtain permission from your faculty's Office of Educational Affairs to take online courses offered by overseas universities through VSE.
 
3. Check the relevant university's courses and application deadlines using " ① List of Academic Courses" then follow the application instructions using " ② Application for VSE Academic Courses".

Complete application by noon of 2 business days before the application deadline set by the course offering university.


 
4. Report your application for VSE courses using the VSE Application Report Form.
 
5. You will receive confirmation of your application by email from the VSE office. Forward this email to the Student Exchange Division as soon as possible.
 
6. You may receive an email about the outcome of your application from the VSE office, or about registration from the relevant university. Follow any instructions given in such emails and perform any required registration procedures.
Withdrawal
An application could be withdrawn at any time and stage of application, including:
 
• Before the application is endorsed by the home university
• Before the application is approved by the course offering university
• After the applicant has enrolled in the course

Should you wish to withdraw your application, you need to:
 
1. Inform the course-offering university about your wish to withdraw from a course if you had already been approved to enroll in the course.
2. Fill in the withdrawal form, and hand it in to your faculty's Office of Educational Affairs.
3. After informing your faculty, you need to fill in a Google Form to notify the Student Exchange Division.
APRU VSE introduction Video
2. For Students from APRU participating Universities
Academic Courses
Online, credit-bearing undergraduate courses are offered for APRU member universities.
Fall 2023 Semester   
Spring 2023 Semester   
Fall 2022 Semester   
Spring 2022 Semester
Fall 2021 Semester
Past semester information
Co-curricular Programs
Online, non-credit bearing programs for Japanese culture and society.
Upcoming Events
Past Events
Welcome to the Winter Owarai Live!

December 21, 2022

International and domestic students at Tohoku University will perform Manzai, the Japanese stand-up comedy, they have worked on for a semester as part of their class project.
Please join us!

 

Welcome to Owarai Live!

July 16, 2022




"Owarai" … a general term for modern Japanese comedy acts. In this event, students will perform their original "manzai" (double act comedy / stand-up comedy) that they have worked on throughout the spring semester.

Welcome to the Winter Owarai Live!


December 18, 2021




Manzai is a traditional form of Japanese stand-up comedy and represents one of the popular entertainments in Japan, Owarai. You will be able to deepen your understanding about Japanese pop culture at the event.

Exploring Japanese "Manzai" - Intercultural Comedy Show


July 14, 2021




Manzai is a traditional form of Japanese stand-up comedy where two or three comedians exchange joke-filled conversations at high speed. It is representative of "Owarai" (comedy), and is rising as a new icon of Japanese pop culture. In this special event, 7 hilarious teams of students from diverse cultural backgrounds performed intercultural Manzai.

Tohoku Global Campus Project
-Meet new friends at Tohoku University and around the world!-
May 23rd, 2021

Tohoku University student organizations, Tohoku University Global Campus Supporters and IPLANET, held an online social event for students from overseas partner universities.

The "Tohoku Global Campus Project" was launched as part of the Tohoku University Be Global Project to create opportunities for students from partner universities to interact with Tohoku University students. Participants can learn about Japan and Japanese culture through conversations with students at Tohoku University.

Saké Lecture & Virtual Brewery Tour

February 9, 2021

Tohoku University shared the lecture on Japanese sake culture and etiquette by a staff of Asahi Shuzo Brewery.

Discover 'Real' Japan from Home!

January 15 - 23, 2021

Tohoku University offered 6 sessions below including Japanese culture and exchange activities with Tohoku University students.

Trends in/problems with incoming and outgoing international students at Japanese universities
Exchange Activity with Tohoku Univ. Students
Life Careers and Japanese Companies
Intercultural Understanding in Practice
Intro into Japanese yokai
Introduction to Japanese Ukiyoe

JAPAN Expo by TOHOKU Univ.

December 5 - 6, 2020

Tohoku University offered 7 sessions below related to Japanese culture and society.

Adventure in Japan
Touring Japan
Six Summer Festivals of TOHOKU Region
The Portrayal of Japanese Media
A Treasure Hunt of Japanese Pop Culture
Japanese Pop Culture Expo
Kanpai! — What it Means to Be an Adult in Japan
Link