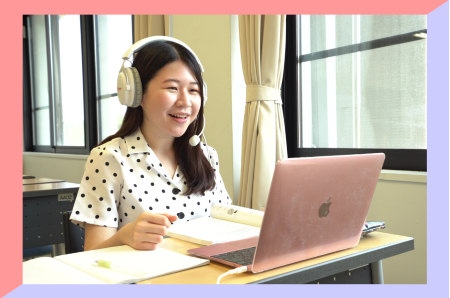 TUJP Online 2021
Tohoku University Japanese Program
[Pre-announcement] New TUJP in the Fall 2021 & Winter 2022 (as of May 26th, 2021)
TUJP Basic
Date: November 8th, 2021 - November 19th, 2021 (2 weeks)
Time: 16:20-19:30(JST), 15:20-18:30(CST), 7:20-10:30(WET)
Target Level: students who have N4 - N5 level proficiency
Credits: 3ECTS equivalent
Program Fee: JPY 30,000
TUJP Intermediate
Date: February 7th, 2022 - February 18th, 2022 (2 weeks)
Time: 16:20-19:30(JST), 15:20-18:30(CST), 7:20-10:30(WET)
Target Level: students who have N2 - N3 level proficiency
Credits: 3ECTS equivalent
Program Fee: JPY 30,000
* Further details including application deadline will be posted on this page.
Program Description
Discover the"Real" Japan from home 
Tohoku University Japanese Program (TUJP)Online is a 2-4 week online program designed to improve your Japanese proficiency and deepen your understanding of Japan.
The program consists of intensive Japanese lessons with many hands-on activities to practice Japanese. In addition, there are collaborative learning classes with local Tohoku University students and interactive lessons on traditional and modern Japanese culture and society.
Local students will also make participants feel welcome as their "buddies," and assist them during the program.
This program, tailored to meet your needs and interests, will help you discover the REAL Japan from home.
Report on Tohoku University Website "Cultural Fun on the Tohoku University Japanese Programme"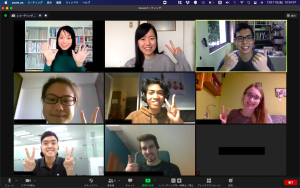 TUJP Online 2021 Pamphlet [PDF]
(Updated as of March 16, 2021)
* Zoom will be used for the online class meetings.
* Google Classroom will be used as the learning management system.
We encourage you to prepare a device such as a computer(highly recommended), tablet, or smartphone, an internet connection(Wi-Fi and/or wired LAN recommended), webcam, microphone and download the Apps.
Schedule
We are pleased to offer a variety of TUJP Online programs this summer.
[Become a Japan Fan!]
TUJP Online-1 : Japanese Communication Program for basic learners
Date: May 10th to May 21st ,2021【2weeks】
Time: 8:50-12:00 (JST)
[Become a Japan Expert!]
TUJP Online-2 : Academic Japanese Program for intermediate learners 
Date: May 27th to June 16th ,2021【3weeks】
Time: 16:20- 19:30 (JST)
[Become a Japan Master!]  
TUJP Online-3 :  Intensive Japanese Communication Program for basic learners
Date: June 21st to July 16th【4weeks】
Time: 8:50-12:00 (JST)
For International Office Coordinators
We can also design customized programs upon request from your university!
◆  We can develop contents to enhance the skills/competencies that you want your students to aquire (e.g. Japanese speaking and listening, culture & lectures etc.). 
◆  Programs can be designed for 2 weeks or longer during April 2021 to March 2022.
◆  Please contact us if you have any questions: tujp@grp.tohoku.ac.jp
Eligibility
 ■ Applicants need to be undergraduate and graduate students. A transcript or certificate of enrollment at your university and contact information for the international affairs office at your university are required.
 ■ Sufficient English ability
  - Equivalent to TOEFL® iBT 70 or PBT 520 recommended.
  - Results from other internationally recognized English exam accepted (not required for native speakers).
*All classes and instructions are provided in English or Japanese.
*Note: TOEFL is a registered trademark of Educational Testing Service (ETS). This product is not endorsed or approved by ETS.
■ Japanese Language ability
TUJP1 & TUJP3 Eligibility
You should have beginner/basic Japanese proficiency (Level 1 to 3 on the "Japanese Level Chart") and know hiragana and katakana. Vocabulary: 0 to 800 Japanese words, and 0 to 150 kanji.
TUJP2 Eligibility
You should have intermediate or above Japanese proficiency. (Level 4 or above on the "Japanese Level Chart.") The classes will increase your Japanese abilities (word choice, explanation/description, speech/presentation, etc.) from intermediate to advanced. You will also attempt to pass the "Advanced" level of the OPI (Oral Proficiency Interview).
* Applicants must submit your SPOT results. Please take your SPOT score into consideration when applying. However, the SPOT score is only an estimate. Even if your score does not meet the criteria for your desired level, you will not be disqualified from applying. The results are used to assign students to the appropriate classes.
"TTBJ/SPOT90" http://ttbj1.cegloc.tsukuba.ac.jp/apply/agree/ 
Japanese Level Chart
Japanese Level

CEFR/JFS

JLPT

SPOT 90

Grammar 90

Kanji SPOT50

Level 1 (Beginner)

-
-
0-30
0-15

Level 2 (Basic)

A1
N5
31-55
21-50

Level 3 (Pre-intermediate)

A2.1
N4
16-30

Level 4 (Intermediate)

A2.2

N3

56-80

51-80

31-40

Level 5(Upper-Intermediate)

B1-B2

N2

Level 6(Advanced)

B2-C1

N1

81-90

81-90
41-50
CEFR: Common European Framework of Reference for Languages
JFS:Standard for Japanese-Language Education 
JLPT: Japanese Language Proficiency Test
Credits Awarded
- On completing the program successfully, students should be eligible to earn 3 ECTS *( TUJP Online-1: 2week programs ),  4ECTS * ( TUJP Online-2: 3week programs )and 6ECTS *( TUJP Online-3: 4week programs ) equivalent.
* 1 ECTS is equivalent to 25 hours of work. These credits are not conferred at Tohoku University, so each participant needs to request credits from their home institution  with the certificate we issue. 
Fees
TUJP Online-1: JPY 30,000 (approx. USD 280)
TUJP Online-2: JPY 45,000 (approx. USD 430)
TUJP Online-3: JPY 60,000 (approx. USD 570)
We will send applicants their results on the dates of admission notification. This message will include the payment instructions.

*

Valid Credit Card required: VISA, Mastercard, JCB, AMERICAN EXPRESS.

*

It is possible to use a card which carries a name different from that of applicant.

*

A processing charge will be added. (JPY950 , approx.USD9 for TUJP-1&2 /JPY1430, approx.USD14 for TUJP-3)

*

Program fee is non-refundable.
Curriculum
Most of the content will be delivered by real-time sessions. You will have many opportunities to interact with instructors and other participants.
Japanese Language Lessons 
TUJP Online-1 & 3 are designed for basic learners of the Japanese language. You will acquire the linguistic and cultural knowledge needed for getting around Japan and carrying out casual conversation with native Japanese speakers.
TUJP Online-2 is for intermediate learners of the Japanese language. By attending this program, you can boost your Japanese language level to an advanced speaking level.
Collaborative Learning & Interaction with Tohoku University Students
You can gain diverse perspectives and communication skills by working with Japanese and students from different backgrounds in intercultural collaborative learning classes. In TUJP Online-1 & 3, you will join project-based learning (PBL) workshops in English. In TUJP Online-2, you will join a few sessions to discuss with Japanese students in Japanese, supplemented by English. In addition, a local student at Tohoku University will become your "buddy," and assist your learning during the program. You can also become familiar with Japanese culture and student life at a workshop with TU students.
Lessons on Japanese Culture & Society 
You can learn about various aspects of Japan through lessons on Japanese culture and society. These lessons will be conducted in English for TUJP Online-1 & 3, and in plain Japanese for TUJP Online-2.
◆ In addition to the class hours, students will be required to study outside of class for assignments and group projects etc.
◆ Much of the content of TUJP-1 is the same as the content of TUJP-3.
(Subject to change)
TUJP Buddy Program
The "TUJP Buddy Program" will run online during this program. Each TUJP student will be matched with one or two local Japanese "buddy" students for cross-cultural exchange and interaction. After your buddy(s) contacts you by email, please start interacting with each other. You can interact with online tools, such as email, Line, Zoom, Google Meet, and Skype.
We've advised your buddy to hold an online meeting at least once a week for 60 minutes and to respond to your email/SNS in addition to the online meeting. Please find time with your buddy for the online meetings. We believe that current students can help TUJP students by sharing their experiences, providing insights into university life, and responding to questions and concerns. It's also a great way to make friends and practice Japanese!
Application
The application process has been changed, so there is no need to nominate candidates. Individual students can now apply directly.
Fill out the application form and upload the necessary documents (max. 5MB in total) by the deaedline.
If the application is completed successfully, an automatic message will be sent to your registered email address. 
Important Dates

TUJP Online-1 

TUJP Online-2

TUJP Online-3

Application Deadline

[Extended!]

March 31st, 11:59 p.m. (JST)
April 15th, 11:59 p.m.(JST)
May 12th, 11:59 p.m. (JST)

Admission  Notification Date

April 9th

April 26th

May 25th

Payment  Deadline

(Program Fee)

April 14th 11:59 p.m. (JST)

May 10th 11:59 p.m. (JST)

June 3rd 11:59 p.m. (JST)
Required documents
  Ⅰ.   A certificate of enrollment at your university or  transcript from the previous academic year in English
  Ⅱ.  Copy of photo ID, such as passport or student ID card (page with applicant's photo)
  Ⅲ. Copy of English language ability certificate and scores (optional)
  Ⅳ.  Result of online Japanese test:
        Please choose the "SPOT90 + Grammar90 + 漢字SPOT50"  Online Test 
        (Refer to the example of score entry on the Application Form)
*Note that the results of an online Japanese test are used to balance the number of students in the appropriate classes.
We will share the participants list with the international affairs office at your university, if we receive a request. 
Privacy Policy (GDPR)
Please visit the link below to read about Tohoku University's privacy policy:
Tohoku University Privacy Policy (PDF)
Contact
Student Exchange Division
41 Kawauchi, Aoba-ku, Sendai, Miyagi, 980-8576 Japan
Office Hours: Monday-Friday 8:30-12:30, 13:30-17:15
Tel: +81-22-795-3745
Email: tujp@grp.tohoku.ac.jp
Photo Gallery