IPLA (New)
International Program in Liberal Arts


IPLA + DEEp-Bridge = Renewal! (Coming Fall 2020)
Introduction
IPLA provides an opportunity for students at our partner institutions to study a variety of Liberal Arts classes taught in English, including Economics, Management, Education, Law, History, and Literature at Tohoku University, Japan. The program also offers Japanese language and culture classes in order to assist students in understanding Japanese language and customs. Students who have attained adequate Japanese proficiency may take advanced Japanese language classes or regular classes with Japanese students.
Cultural and intellectual exchange with Japanese students is an important part of the program and is achieved through group activities and interaction with local Japanese students, both in classes and in extracurricular activities.
Course credits may be transferred to the student's home institution in accordance with the student exchange agreement.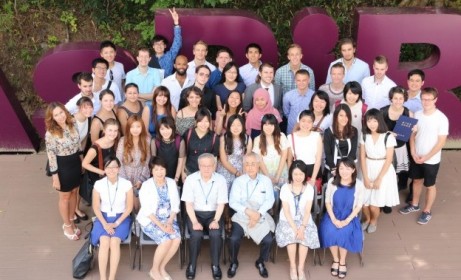 Curriculum
IPLA offers comprehensive curriculum where students can choose classes across disciplines in Liberal Arts and Social Sciences. 
After taking the Japanese Placement Test* to measure Japanese language proficiency, IPLA participants register for compulsory and elective subjects that match their level as described below. Participants must earn 15 credits per term.
1. Course Descriptions
2. Requirements of Program Completion
3. Student's Status and Credit Transfer
Two Tohoku University credits (TU credits) are to be given per course (90min.) in general. 
Credit System: 1 Tohoku University credit is awarded for 45 hours of school work.
Grading Scale: AA (90-100)/A (80-89)/B (70-79)/C (60-69)/D (below 59)
    

Japanese

Level

      Japanese Language Program
International co-learning classes

Specialized classes

Compulsory

(Credit/Class)

Elective

Compulsory

Elective

1

 I or C (4)

**Kanji and courses of assigned level

1-2 credit(s) each

2 credits from the specified courses

1-2  credit(s) each

2

 C (4)

3

 C (4)

4

 C (4)+※(2)

5

 C (2)+※(2)

6
* This test is taken online once you have been accepted into the program and before you travel just before the start of the semester.
** Level of Kanji/Vocabulary differs from Level of Japanese
※Subject to Change
I:  Japanese for Interaction
C: Comprehensive Japanese
Fall Semester (Oct. 2020 - Mar. 2021)
★

Online Orientation
Sep. 28, 2020
3:30pm-5:00pm (JST)
by Google Meet with DCMail
Class begins

Oct. 1, 2020

Winter Holiday

Dec. 26, 2020 - Jan. 3, 2021

Class ends

Feb. 3, 2021
★ALL IPLA students must participate.
Spring Semester (Apr. 2021 - Sep. 2021)
★

Orientation
Early Apr., 2021
Class begins
Early Apr., 2021

★

Trip
TBA

Class ends

Early Aug., 2021

★

Final Presentation

Early Aug., 2021
★ALL IPLA students must participate.
NOTE: Dates are subject to change. Do not purchase airfare until dates are confirmed.
IPLANET and Tutors
IPLANET is a student organization that supports students in the International Program in Liberal Arts (IPLA). They plan special events such as cooking classes, cultural experiences, and welcome and farewell parties for IPLA students to experience and enjoy. They also organize the Global Cafe, in which IPLA students teach their native languages and cultures. Many members assist IPLA students as tutors in various matters from study to daily life.
Click here for their Facebook page.
Photo Gallery