Double Degree Program
Last Updated: April 26, 2023
To provide the next generation with leading technological and international skills and enhance academic cooperation with top-class higher education institutions worldwide, Tohoku University offers three university-level Double Degree Programs for master course students. Furthermore, most of Tohoku University's graduate schools also offer departmental-level Master's/Doctoral Double Degree programs with overseas partners.
What is a Double Degree?
Double Degree (also known as "Dual Degree", "Combined Degree", "Simultaneous Degree", etc.) is an international joint education program carried out by two partner institutions located in two different countries.

Its participants enrol as full-time students at both institutions (their home and host institutions) and study towards achieving two equivalent-level degrees. To be awarded a Double Degree, students must fulfil the requirements at both institutions.

Even though a Double Degree Program is sometimes longer than a regular single degree program, it takes less time for students to complete it than it would take to earn the degrees separately. In addition, in most cases, Double Degree students only have to pay the tuition fees to their home university and are waived from paying such costs to the overseas host institution.
Postgraduate-Level Double Degree Programs
Tohoku University offers three postgraduate-level Double Degree Programs with the following partner institutions:
Ecoles Centrale Group (CentraleSupélec (Paris), Nantes, Lille, Lyon, Marseille); France
INSA de Lyon; France
KTH (Royal Institute of Technology); Sweden (only Master's double Degree so far)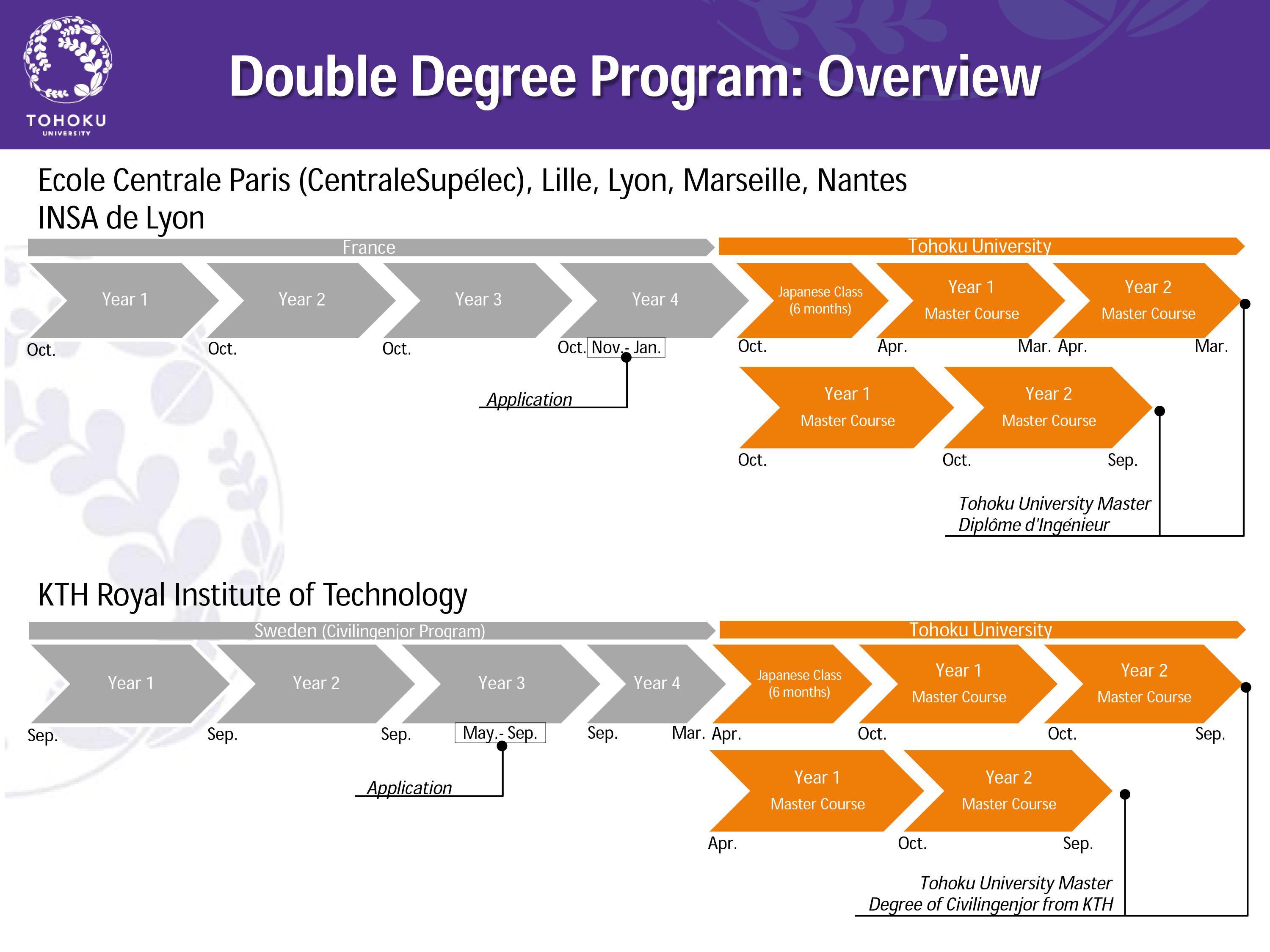 Curriculum (Master)
Partner University

Ecole Centrale Group/INSA Lyon

Available Graduate Schools at Tohoku

Graduate School of Engineering

Graduate School of Science

Graduate School of Information Sciences

Graduate School of Environmental Studies

Graduate School of Engineering

Graduate School of Agricultural Science

Graduate School of Information Sciences

Graduate School of Environmental Studies

Graduate School of Life Sciences

Completion Requirements

*

30 Tohoku University credits

from coursework, research in a laboratory, and final thesis

Degrees Awarded

Master's

Standard Study Period

Two years (+ 6-month-long Japanese language course if required)

Language of Instruction

English and Japanese

Japanese Language Program

A 6-month-long Japanese language course (JLPK) is available before the start of the master course (credits not given)
* One Tohoku University credit is equivalent to 45 hours of study
Eligibility
Eligible students must have completed their undergraduate course. In addition, they will be enrolled or have been as full-time Master's course students at their home institution, majoring in one of the STEM fields.
Please confirm other eligibility requirements with the international office at your institution.
How to Apply
The information and application documents are sent to the international coordinators at our partner universities each year. Please refer to the Application Guidelines and the Schedule below.
Partner institutions set their schedules and deadlines for internal selection.

Application Schedule
| | | |
| --- | --- | --- |
| Partner University | Ecole Centrale Group/INSA Lyon | |
| Application Period | December 1st to January 31st | June 1st to September 15th |
| Selection Results | Around May | In the middle of December |
| Students come to Japan | End of September | End of March |
Financial Support
Admitted students are waived from paying tuition fees to Tohoku University. However, students must cover their expenses (such as housing, meal, and travel costs). Unfortunately, Tohoku University does not provide a scholarship for Double Degree Program participants. However, students may apply for the JASSO scholarship (please refer to the instruction below.) and fellowships from organizations like the Japanese Government (MEXT).
If you plan to apply for the MEXT scholarship with "Embassy Recommendation", please note that its application period differs from the Double Degree Program. Therefore you may need to prepare your MEXT scholarship application well in advance.  
JASSO Scholarship
JASSO Scholarship
The application periods are in October and February. However, the JASSO Scholarship is available for a limited number of qualified international students, and it depends on if Tohoku University can obtain it among the many domestic applicants, so you must consider applying for other scholarships.
 Amount
JPY80,000 per month
Eligibility

Students must not receive any scholarship that exceeds JPY80,000 per month, specifically for Tohoku University exchange programs.
Students must have a minimum GPA of 2.30/3.0, calculated using JASSO's GPA formula.

Students who do not currently possess Japanese citizenship.

Duties 
JASSO Awardees must perform specific tasks, such as submitting reports and confirming attendance. If they do not perform those tasks by the deadlines, they might lose their eligibility for the scholarship.
Application Method

Submit the "Application Form for the JASSO Scholarship" (via Google form) with a copy of transcripts from the previous academic year (no less than two semesters).

Screening Results
Spring semester: Mid-March, Fall semester: Late August
Housing
Double Master Degree Program students from Ecole Centrale Group, INSA Lyon, and KTH are entitled to live in Tohoku University's student dormitory for the whole study period.

The students are fully responsible for paying housing fees. However, if the students decline the offer to stay at the dormitory, Tohoku University will not be held accountable for finding accommodation.
TU Support
The International Support Office aims to facilitate a wide range of support for international students and researchers. For more information, please visit Tohoku University TU Support.
Arrival
Please refer to "Preparing for Arrival 2023-2024 DD".
Contact
 Student Exchange Division
41 Kawauchi, Aoba-ku, Sendai, Miyagi, 980-8576 Japan
 Contact us
Student Life:
Living in Sendai, Career Paths (under renewal)
GONCALVES LEO TAISEI École centrale de Lyon Graduate School of Information Sciences
WU ZONGLIN INSA de Lyon Graduate School of Engineering
HIRAO VERMARE LOUISE AYAKO INSA de Lyon Graduate School of Engineering
Other Double Degree Programs
Tohoku University's graduate schools also have postgraduate-level double Master's/Doctoral Degree Programs with partner institutions. Please contact the graduate schools below directly for more information.
■Graduate School of Arts and Letters
   Cross-National Doctoral Course
■ Graduate School of Economics and Management
■ Graduate School of Dentistry
■ Graduate School of Engineering
■ Graduate School of Life Sciences
■ Graduate School of Environmental Studies