Introduction
In order to provide the next-generation with leading technological and international skills as well as to enhance the academic cooperation with top-class higher education institutions around the world, Tohoku University offers three university-level Double Degree Programs for master course students.  Furthermore, most of Tohoku University's graduate schools also offer departmental-level Master's/Doctoral Double Degree programs with their overseas partners.
What is a Double Degree?
Double Degree (also known as "Dual Degree", "Combined Degree", "Simultaneous Degree" etc.) is an international joint education program carried out by two partner institutions located in two different countries.

Its participants enroll as regular students at both institutions (their home institution and the host institution) and study towards achieving two equivalent level degrees. In order to be awarded a Double Degree students must fulfill the requirements at both institutions.

Even though a Double Degree Program is in some cases longer than a regular single degree program, it takes less time for students to complete a Double Degree Program than it would take to earn the degrees separately. In most cases, Double Degree students only have to pay the tuition fees to their home university and are waived from paying such fees to the overseas host institution.
University Level Double Master's Degree Programs
Tohoku University offers three university-level Double Master's Degree Programs with the following partner institutions:
Ecoles Centrale Group (CentraleSupélec (Paris), Nantes, Lille, Lyon, Marseille); France
INSA de Lyon; France
KTH Royal Institute of Technology; Sweden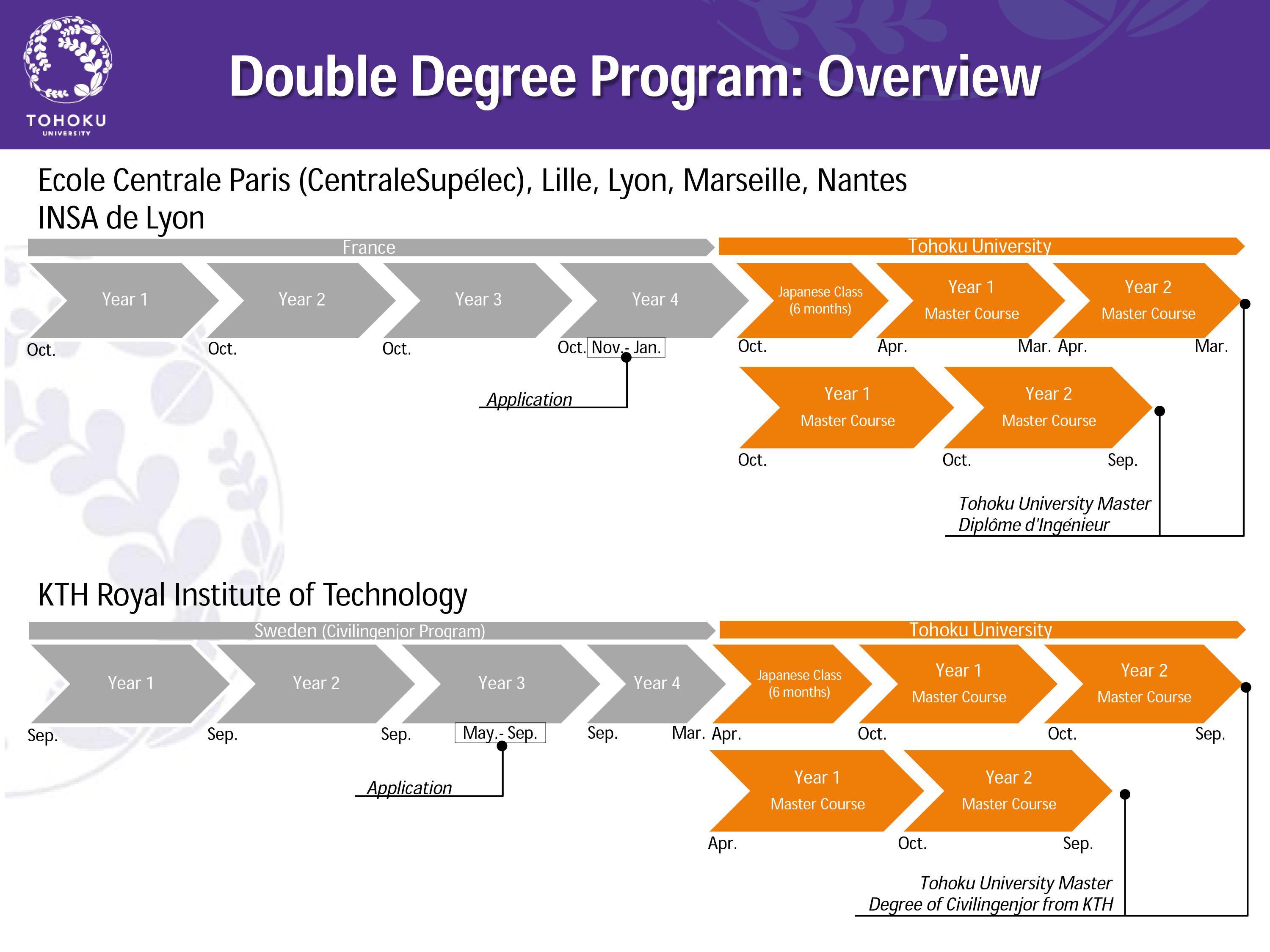 Curriculum
Partner University

Ecole Centrale Group/INSA Lyon

Available Departments at Tohoku

Graduate School of Engineering

Graduate School of Science

Graduate School of Information Sciences

Graduate School of Environmental Studies

Graduate School of Engineering

Graduate School of Agricultural Science

Graduate School of Information Sciences

Graduate School of Environmental Studies

Completion Requirements

*

30 Tohoku University credits

from course work, research in a laboratory, and final thesis

Degrees Awarded

Master's

Standard Study Period

2 years (+ 6-month-long Japanese language course if required)

Language of Instruction

English and Japanese

Japanese Language Program

6-month-long Japanese language course is available before the start of the master course (credits not given)
* One Tohoku University credit is equivalent to 45 hours of study
Eligibility
Eligible students must have successfully completed their undergraduate course and be enrolled as regular Master course students at their home institution, majoring in one of the STEM fields.
Please confirm other eligibility requirements with the international office at your institution.
How to Apply
Each year the information and the application documents are sent to the international coordinators at our partner universities. (Please see the Application Schedule below.) Partner institutions set their schedules and deadlines for internal selection.

Please inquire at your international office about the internal selection schedule at your institution. When applying for the Double Degree Program, please submit all the required application documents to the coordinator at your university by the designated deadline. Tohoku University does not accept direct applications from the students.
Application Schedule
| | | |
| --- | --- | --- |
| Partner University | Ecole Centrale Group/INSA Lyon | |
| Application Period | December 1st to January 31st | June 1st to September 15th |
| Selection Results | Around April | Around December |
| Students come to Japan | End of September | End of March |
Financial Support
Admitted students are waived from paying tuition fees to Tohoku University. Students are required to cover their personal expenses (such as housing, meal, and travel costs) themselves.
Tohoku University does not provide a scholarship for Double Degree Program participants. However, students may apply for scholarships from other organizations, such as the Japanese Government (MEXT) Scholarship. (If you are planning to apply for MEXT scholarship with "Embassy Recommendation" please note that its application period is different from the Double Degree Program's application period. Therefore you may need to prepare your MEXT scholarship application well in advance. )
Housing
Double Master Degree Program students from Ecole Centrale Group, INSA Lyon, and KTH are entitled to live in Tohoku University's student dormitory for the whole period of their study here.

The students are fully responsible for paying housing fees. If the students decline the offer to stay at the dormitory, Tohoku University will not be held responsible for finding accommodation for them.
TU Support
The International Support Office aims to facilitate a wide range of support for international students and researchers. For more information please visit: Tohoku University TU Support.
Contact
 Student Exchange Division
41 Kawauchi, Aoba-ku, Sendai, Miyagi, 980-8576 Japan
 Contact us
Departmental Level Graduate Double Degree Programs
Most of Tohoku University's graduate schools also have departmental level Double Master's/Doctoral Degree Programs with their partner institutions. Please contact the relevant graduate school directly for more information.
■ Graduate School of Arts and Letters
   Cross-National Doctoral Course
■ Graduate School of Economics and Management
   Global Program in Economics and Management (GPEM)
■ Graduate School of Dentistry
■ Graduate School of Engineering
■ Graduate School of Life Sciences
■ Graduate School of Environmental Studies
■ Graduate School of Biomedical Engineering
■ Human Security Program (Linkage Program)
   [In collaboration with the Graduate Schools of Agricultural Science, Medicine, Environmental Studies, and International Cultural Studies]