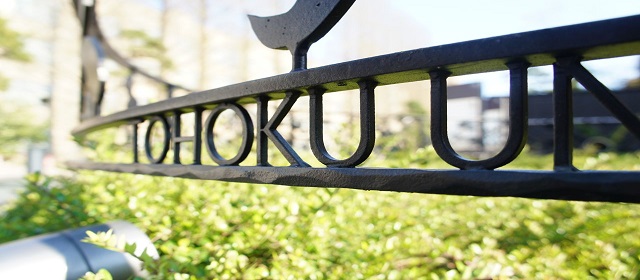 Preparing for Arrival (2022-2023 DD)
Instructions for students participating in the Double Degree Program
(Last Updated: January 18, 2023)
Attention Double Degree students:
We hope all students can come to Japan and participate onsite. However, the condition may change depending on the future COVID status. Therefore, we will decide whether the following semester will be held onsite or online.
Welcome to Tohoku University!
We are delighted that you have chosen to study with us. This section highlights the things you must do before starting the exchange. Please follow the instructions below and submit the necessary applications by the deadlines. Make sure to check this page regularly and prepare the following accordingly.
We look forward to welcoming you to Tohoku University!
1: Apply for COE
A Certificate of Eligibility (COE) must obtain a student visa before coming to Japan. Tohoku University will apply for your COE on your behalf at the Sendai Regional Immigration Bureau. Please read the following materials (Form 1 and 2) first, then submit your COE application by January 20, 2023. Please note that entering Japan as a tourist is NOT allowed.
- Form 1: Instructions for COE and Student Visa Applications
- Form 2: Information Sheet for the COE Web Application
We will guide you to the COE Application Web Form after going through Forms 1 and 2.
COE Application Form Deadline:
| Enrolment Term | Deadline |
| --- | --- |
| Spring 2023 New Exchange Students | January 20, 2023 |
| Fall 2023 New Exchange Students | June 18, 2023 |
Apply For Student Visa:
Tohoku University will send your COE by Express Mail Service (EMS or FedEx) once it is issued. As soon as you receive the COE, apply for a student visa at your nearest Japanese embassy/consulate general. It may take longer to give the COE in some cases. However, we ask for your patience as Tohoku University has no control over the process.
Entering Japan After The Specified Date:
You may not enter Japan before the specified date below. Tohoku University is responsible for your well-being in Japan as your visa sponsor.
Spring Enrollment
Fall Enrollment
COE Issuance
Early Mar.
Late Aug.
EMS Delivery Days
Approx. 5 days
Visa Processing Days
Approx. 5 working days or more
Entry in Japan
After March 15
After September 17
COE issuance schedules are subject to change. 
For inquiries about COE and Visa, please get in touch with International Support Center.
2: Apply for Dormitory
Please read and understand the Important Note below. Then submit the Dormitory Application Form by January 31, 2023. Dormitory allocation and check-in procedures will be announced later.
- Important Note
- Dormitory Application Form
Deadline: January 31, 2023, for the Spring 2023 New Exchange Students
What else do you think I should know about the dorms?
- Double Degree Program students are entitled to live in a Tohoku University dormitory for the whole period of their studies. However, you will have to apply for an extension after two years of your stay in the educational affairs section of your graduate school.
- Residents will be charged for utilities besides rent and maintenance fees for the first 2-3 months (Each dormitory has different regulations).
- Comparison Chart for bedding, Internet, equipment, and other services.
※You may be charged over ​JPY​100,000 for repairs if you smoke in the dormitory, so please follow the dormitory rules.
Aoba Ward area:
Sanjo area (Aoba Ward):
Campus and Dormitory location:
Map and Access from Sendai Station
- All four campuses are conveniently connected by a subway.
 Both the Aobayama and Kawauchi campuses have a subway station on campus, and you can walk between the campuses.
- A Free shuttle service* between campuses is also available. *Currently out of service to prevent the spread of COVID-19
- Approximate Time Required From Sanjo Area To Kawauchi Campus
 On foot: 40 minutes, City Bus (1-3 buses/hour): 12 minutes (about JPY400 one-way)
 City Bus/Subway Passes are available for students at a discounted price.
3: Japanese Language Programs at Kawauchi (JLPK)
We will let you know the detailed information before the Spring / Fall semester starts.
4: Academic Accommodations
Please refer to the link below if you need support during your stay due to physical and mental health difficulties before the semester begins.
Academic Accommodations Request Form 
5: Require Insurance for All International Students
 Student Insurances

("Gakkensai Insurance")

Personal Accident Insurance for Students Pursuing Education & Research. 

★The insurance must pay to the Japan Post Bank. We will help you to complete it.

 Inbound Insurance for International Students

("Inbound futai-gakuso")

Comprehensive Insurance for Student Lives Coupled with "GAKKENSAI" for International Students

 National Health Insurance

("Kokuho")

You should apply for insurance at the ward office, and we will help you complete the procedures.
6: Travel to Japan (Things To Do)
from November 2022
For US citizens (including green card holders): Please bring your social security number when opening a bank account (according to the

FATCA

).

7: First Meeting

It depends on your academic supervisor's schedule. Please contact them when you make sure of your departure date.

8: Prepare Funding

The average living cost is approximately 80,000 yen per month. Therefore, make sure you have secured enough money to cover your stay.

- Bring a bank card, credit card, and debit card issued by an international bank or company.
 You can use the following Bank ATMs in Japan to withdraw cash in yen.
 ✓ JAPAN POST BANK
 ✓ SEVEN BANK
 ✓ AEON BANK
- Estimated Living Cost

For JASSO scholarship applicants:

-We will announce the application information around the end of January and November.

For those receiving the JASSO scholarship:
- According to the Japanese budgetary system and financial procedures, the first stipend will be transferred about two months after your arrival at Tohoku University.

 However, if you participate online, you will not receive the JASSO scholarship. 

Contact: Tohoku University, Student Exchange Division

41 Kawauchi, Aoba-ku, Sendai, Miyagi,
980-8576 Japan

(Office Hours) Monday-Friday 8:30-12:30, 13:30-17:15

Contact us via the Contact Form. (Under construction, please contact us directly.)