TUIP
Tohoku University Immersion in Japan Program
TUIP 2020 is cancelled. Future TUIP announcements will be made via our website.
Introduction
This intensive program provides students with an opportunity to explore Japan's local culture in English and Japanese. 
Please see the below flyer for details.
Number of Enrollments: 20 students
TUIP Flyer 2020 (Updated on January 9th, 2020)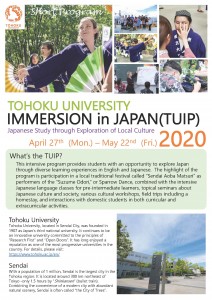 Program Schedule
| | |
| --- | --- |
|  Check-in |  April 26, 2020 |
|  Welcome Ceremony & Orientation |  April 27, 2020  |
|  Farewell Ceremony & Final Presentation  |  May 22, 2020 |
|  Check-out |  May 23, 2020 |
Curriculum
Project Work on "Suzume Odori (Sparrow Dance)"
The highlight of the program is participation in a local festival called "Sendai Aoba Matsuri" as performers of the "Suzume Odori," or Sparrow Dance on May 16, 2020. 
Japanese Language Classes
The course is designed for pre-intermediate level students to improve their communication skills efficiently by focusing on a variety of topics in every day life.
Lectures & Workshop Examples
- Comparative Japanese Studies
- Governmental Policy in Japan
- Disaster Risk Prevention
- Tea Ceremony (Sado)
- Japanese Drum (Wadaiko) and more
Credits Awarded
On completing the program successfully, students should be eligible to earn 8 ECTS equivalent credits*.
* 1 ECTS is equivalent to 25 hours of work. These credits are not conferred at Tohoku University, so each participant needs to negotiate with his/her home institution with the certificate we issue.
Program Fees
 Tuition, home stay, Japanese

 culture workshops and other activities 

 120,000 yen 
 Approx. accommodation fee
 170,000 yen
 Processing charge*
 9,000 yen
 TOTAL
 299,000 yen (Approx.)
*Processing charge is a transfer fee charged by the online payment website.
Travel, insurance, and everyday expenses should be paid individually.
Payment instructions will be sent to those who are accepted. 
Scholarship
Qualified students may apply for a Japan Student Services Organization (JASSO) scholarship of JPY 80,000.

- JASSO Scholarship Information (PDF)
- JASSO Application Form (PDF)
Field Trip (Optional)
Students can choose to join a field trip on an off day. You can experience and learn about Japanese culture/history in depth at some famous local sites.
The participation fee (approx. 6,000~7,000 yen) will apply. (More details will be announced later.)
Privacy Policy (GDPR)
Please visit the link below to read about Tohoku University's privacy policy:
Tohoku University Privacy Policy (PDF)
Eligibility
- Full-time undergraduate students at partner universities (university-level) of Tohoku University
- Pre-intermediate learners of Japanese language (Equivalent to TTBJ/SPOT90 Japanese online test score of 31-64)
- Sufficient English ability (Overall TOEFL iBT® Test 70 equivalent. Other internationally recognized English exam scores are also accepted. English language ability certificate is not required for native speakers.)
Note: TOEFL is a registered trademark of Educational Testing Service (ETS). This product is not endorsed or approved by ETS.
How to Apply
To apply for this program, applicants need to fill in the online application form and upload the following documents no later than the deadline.
The application details will be provided to applicants through the relevant office of partner universities.

Required documents:
1. Transcript from the previous academic year in English
2. Photocopy of passport name page
3. Personal statement (300-400 words): Personal Statement Sheet
4. Copy of English proficiency certificate (Not required for English native speakers)
5. Result of TTBJ/SPOT90 Japanese test* 
6. Application Form for the JASSO Scholarship (if applicable)
*TTBJ/SPOT90 Japanese online test: http://ttbj1.cegloc.tsukuba.ac.jp/apply/agree/
Please choose the "SPOT90+Grammar90+漢字SPOT50".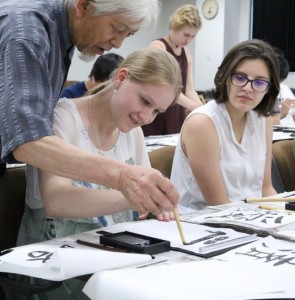 Application Deadline: January 31, 2020 (Japan Standard Time)
Contact
Student Exchange Division
41 Kawauchi, Aoba-ku, Sendai, Miyagi, 980-8576 Japan
Office Hours: Monday-Friday 8:30-12:30, 13:30-17:15
Tel: +81-22-795-3745
Email: suzume@grp.tohoku.ac.jp
Photo Gallery