Tohoku University welcomed 22 new international undergraduates to the Future Global Leadership (FGL) program at an entrance ceremony on September 29.
The students representing 10 different countries - including, for the first time, the UK and Venezuela - will be joining the faculties of science, engineering, and agriculture. Japanese students who passed the Global Admissions Exam, will also be taking classes with the FGL students.
Due to COVID-19, the entrance ceremony was held online, and was attended by Tohoku University's Director and Vice President, as well as faculty members in charge of courses in the Faculty of Science, Faculty of Engineering, and Faculty of Agriculture. After congratulations and words of encouragement from Director Takizawa, the students representing each course expressed their aspirations for the future. After completing the three months of pre-enrollment education, the new students attended the ceremony with a sense of hope and nervousness before classes begin in October.
Tohoku University will continue to provide online classes for new students who have not yet been able to travel to Japan, and will continue to assist their arrival.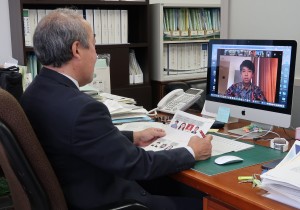 (Executive Vice President, Prof. Hirotsugu TAKIZAWA)