Online promotion events for the Future Global Leadership undergraduate courses (hereafter, FGL) were and will be conducted in summer 2021 for reputable high schools and organizations in Indonesia, Thailand, and China, where many students apply for FGL every year. In each event an "FGL Student Ambassador," who is a current FGL student, joined as a moderator, and assisted the course explanation in the local language. Professors from GLC and each course explained details of FGL.
  ● Suankularb Wittayalai School (Aug. 7, Thailand) 
  ● Wardaya College (Aug. 20, Indonesia) 
  ● Shenzhen College of International Education (Sep. 2, China)

  ● Kamnoetvidya Science Academy (Sept. 4, Thailand)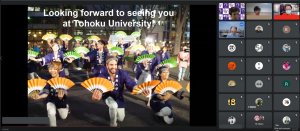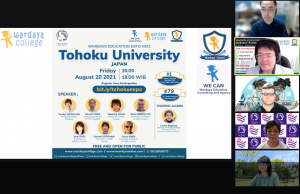 Not only the information sessions for the high schools, Global Learning Center representing Tohoku University also joined online events of "Study in Japan Global Network Project" organized by MEXT. For each event, a special website was created to provide information to visitors all times, and real-time sessions were also held. In the session, Q&A was conducted actively and mainly questions on application procedure, career path, and scholarships were raised.
  ● Study in Japan Online Seminar (Jun. 25, Southwest Asia)
  ● 

Study in Japan Online Fair for Sub-Saharan Africa 2021 (Aug. 5, Sub-Saharan Africa)

  ● 

STUDYING IN JAPAN - MINI FAIR (Aug. 26, South America)

  ● 

Study in Japan Virtual Fair For Thailand 2021 (Sept. 14, Thailand)
We will continue to participate in these and other public relations events to attract more students.