Introduction
Tohoku University offers master-level double degree programs with the following partner universities in order to provide the next-generation with leading technological and international skills as well as enhance academic cooperation between partner universities.
Ecole Centrale Group (Paris/CentraleSupélec, Nantes, Lille, Lyon, Marseille), France
INSA de Lyon, France
KTH Royal Institute of Technology, Sweden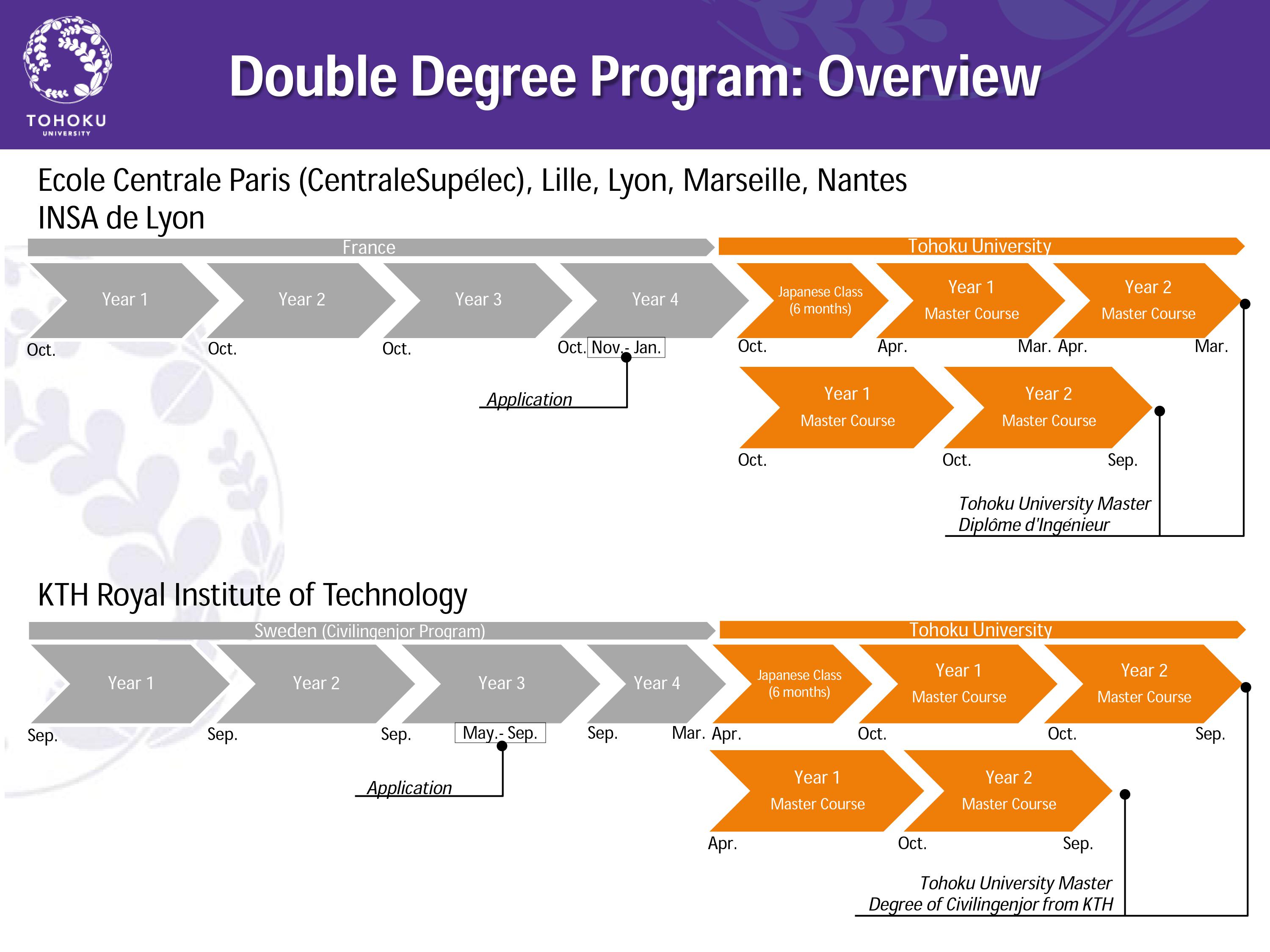 Curriculum
Partner University

Ecole Centrale/INSA de Lyon

KTH

Completion Requirements

30 Tohoku University credits* from course work, research in laboratory, and final thesis

Degree Awarded

Master

Standard Study Period

2 years (+ 6-month Japanese course if required)

Language of Instruction

English and Japanese

Japanese Language Program

Available for 6 months before master course (credits not given)
* One Tohoku University credit is equivalent to 45 hours of study
Eligibility
Student must be a regular student at a partner university and have a scientific background.
Details must be confirmed with the international coordinator at the student's home university.
How to Apply
Application information will be sent to the international coordinator at each partner university, and all application documents must be sent through the coordinator by the designated deadline. Ask your international office if another deadline is fixed for internal selection. Direct applications from students are not accepted.
Application Schedule
| | | |
| --- | --- | --- |
| Partner University | Ecole Centrale/INSA de Lyon | KTH |
| Application Period | 1st November to 31 January | 1st June to 15 September |
| Selection Results | Around April | Around December |
| Students come to Japan | End of September | End of March |
Support
Financial
Admitted students are not required to pay tuition fees to Tohoku University. Personal expenses such as housing, meals, and travel are the responsibility of the students.
Housing
Double Degree Program students (master level) from Ecole Centrale, INSA de Lyon, and KTH are entitled to live in student housing during their stay at Tohoku University. If the student declines this offer, Tohoku University will not be responsible for finding accommodation for them.
TU Support
The International Support Office aims to facilitate a wide range of support for international students and researchers. Tohoku University TU Support
Contact
Student Exchange Division
41 Kawauchi, Aoba-ku, Sendai, Miyagi, 980-8576 Japan
Tel: +81-22-795-3775 or 3745
Email: studyab@grp.tohoku.ac.jp
Other Double Degree Programs
Some Tohoku University graduate schools provide double degree programs with certain partner universities. Please contact the relevant graduate school for details. ■Graduate School of Law Cross-National Doctoral Course: http://www.law.tohoku.ac.jp/english/graduate/cndc/ ■Graduate School of Economics and Management IGSAP: http://www.econ.tohoku.ac.jp/econ/IGSAP/english/ GPEM: http://www.econ.tohoku.ac.jp/econ/english/IPEM/index.html ■Human Security Program (Linkage Program): http://www.agri.tohoku.ac.jp/human-security/human_security_english.html [In collaboration with the Graduate Schools of Agricultural Science, Medicine, Environmental Studies, and International Cultural Studies] ■Graduate School of Dentistry: http://www.dent.tohoku.ac.jp/english/index.html ■Graduate School of Engineering: http://www.eng.tohoku.ac.jp/english/