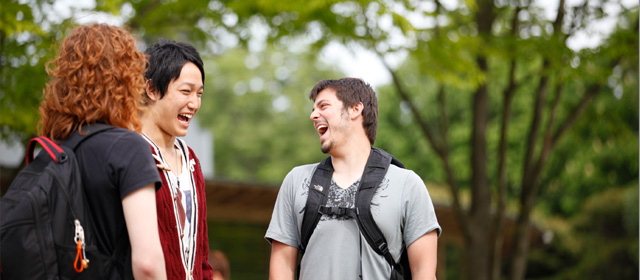 Support
Tohoku University provides many kinds of support to international students.
Tutors
This system provides tutors, recruited from Tohoku University students, to help international students adjust to studying and daily life in their new environment almost as soon as they enter the university.

Period of eligibility for tutoring:
- 2 years for undergraduate students (within 1 year of transferring)
- 1 year for research and graduate students
- Duration of enrollment for Special Auditing Students and Special Resesarch Students

If you want to be assigned a tutor, please inquire with your academic advisor or your department's Office of Educational Affairs.
Academic Support
Center for Learning Support (CLS)
SLA / Student Learning Advisers
There are SLA(Student Learning Advisers) at the Center for Learning Support on Kawauchi Kita Campus to support for your First-year experiences mainly focusing on General Education classes. Learning support of SLA includes science(physics, mathematics, chemistry), Japanese writing and conversation, English conversation and learning events.
The SLA Lounge is on the 1st floor of the Multimedia Education and Research Complex. Feel free to make use of it, even if you don't require help from the SLA.
Disability Services Office
The Disability Services Office provides information and advice on disabitily issues and facilities support for students with visual, auditory, physical, internal and/or developmental handicaps.
Departmental International Offices
Each undergraduate/graduate school has an international exchange office that plans exchange events with international students.
International OASIS
International OASIS at Kawauchi Minami campus hosts a variety of cultural activities all year round, and offers student support services, such as language lessons and information on study abroad programmes.
See here for details(Facebook)


Faculty / Graduate school of Arts and Letters: International Student Division
Faculty of Economics/Graduate School of Economics and Management: Division of International Education and Exchange (DIEE)
Division of International Education and Exchange (DIEE) serves as a support for international students and Japanese students that wish to study abroad. For international students, linguistic education is focused in the course of study, as well as counseling of life in Japan and career support.
Faculty / Graduate School of Science: Division for International Research and Educational Cooperation (DiRECT)
DiRECT provides assistance to international students, and Japanese students who seek academic opportunities abroad, and also functions as the Admission Office for IGPAS (International Graduate Program for Advanced Science).
School / Graduate School of Medicine: International Exchange Office
We welcome students from a variety of backgrounds entering our graduate school, learning independently and flexibly without being bound by conventional areas of medical research, thereby opening paths to new and diverse career opportunities.
School / Graduate School of Dentistry: Liaison Center for Innovative Dentistry International Cooperation Section
International Cooperation section coordinates the academic cooperation of Tohoku University School of Dentistry with world-renowned universities such as Harvard University (USA), King's College (UK), and the University of British Columbia (Canada). This section also operates joint-curriculum programs with Beijing University (China), Sichuan University (China), and Seoul University (Korea), the key universities in East-Asian countries, bringing about international partnerships in education and research.
School / Graduate School of Engineering: Division of International Education & Exchange (IEED)
The IEED offers various services concerning with Japanese language education, orientation, personal and academic advice and arrangement of social meetings.
Faculty of Agriculture / Graduate School of Agricultural Science: International Exchange Support Room
The International Exchange Support Room is located in the 2nd Floor of the Multidisciplinary Research Laboratory for Agricultural Science. It is not only a place where international students can visit for consultation or seek information on various matters, but also a place for you to socialize with friends while having your lunch or to simply relax and have some time to yourself in between lectures.
The International Exchange Support Room has a prayer room which provides a quiet and restful place for students of all faiths and denominations.
Graduate School of International Cultural Studies
Graduate School of Information Sciences: GSIS International Liaison Office
GSIS International Liaison Office was created in April 2010, with the aim of facilitating the influx and the outflux of people from all over the world, which in turn, stimulates the scientific environment of the School.
Japanese Language Learning
Tohoku University offers opportunities for international students to learn the Japanese language.
(Kawauchi Kita Campus) Institute for Excellence in Higher Education Japanese Language Program
(Aobayama Campus) Japanese, Scientific & Technical Japanese Classes
Useful Information
The TU Support website offers a wide range of information, in both English and Japanese, useful to student life.