Application Period: July 12—September 6, 2022 (noon)

About the ICL Project
In 2021, six national universities in Japan —Tohoku University, Fukushima University, Tokyo University of Foreign Studies, Shinshu University, Osaka University, Kobe University— initiated a project entitled "Acceleration of Internationalization at Home through the Development of Intercultural Collaborative Learning Networks" as part of The Top Global University Project.

In this project, we aim to foster mutual understanding among students from different linguistic and cultural backgrounds through Intercultural Collaborative Learning. We believe the alliance between the six universities will result in the improvement of our international compatibility.

This project has enabled us to offer a credit exchange in the 2022 school year for Intercultural Collaborative Learning (ICL) classes in six interdisciplinary areas. (Some subjects may not be eligible for credit exchange. Please ask the relevant staff at universityabout aboutabout credit exchange eligibility for the subjects you plan to take.) This will allow students at the above universities to take ICL classes in areas approved by their universities at other universities. Students interested in taking classes through the credit exchange should follow the below application instructions.
Educational Goals
| | |
| --- | --- |
| Interdisciplinary Areas | Educational Goals |
| SDGs | To be able to appreciate the SDGs (Sustainable Development Goals) and pose solutions to the global challenges humanity is currently facing. |
| Natural Disaster/Recovery | To be spokespeople for the process of our recovery and our achievements following the Great Hanshin-Awaji Earthquake and the Great East Japan Earthquake. |
| Multicultural Awareness | To be able to understand and accept people from various backgrounds and observe one's own culture from an objective point of view, resulting in a renewed sense of value and creativity. |
| Business Partnership/Leadership | To be able to work alongside people with different ideas and values, and actively determine issues and solutions as a leader. |
| Japanese Culture/Society | To possess a thorough knowledge of Japanese culture, history, manners, social conditions, and be able to analyze and discuss their appeal and challenges. |
| Collaboration with the Community | Raise awareness of the appeal of and issues in the local community and introduce a broader, global point of view to help develop it. |
Course List
ICL classes (Japanese or English) from six interdisciplinary areas will be offered in the 2022 school year. For a list of subjects, please visit the website below. Class capacities and eligible school years (semesters) vary depending on the class.



How to Apply
Eliginility

Undergraduate Students at TU

Application Period

July 12—September 6, 2022 (noon)
Documents/ Forms



● ICL Course Application Report Form:A Form to report to your faculty member that you are applying for ICL courses.



How to Apply

Please follow the instructions below if you wish to enroll in ICL classes.
①Decide which courses you wish to apply for. You can refer to ICL-Channels Website.

②Submit「ICL Course Application Report Form」 your faculty's Office of Educational Affairs.

③Fill in the ICL Program Course Registration Form
※You will be notifired about the result of your application by mid-September.

Notes on Applications
Please carefully read the following before applying to take ICL classes.

● Check the syllabus of your desired class to make sure you fulfill any prerequisites (ex. English language ability).

● Class times vary among the host universities. You are not permitted to enroll in multiple classes for the same time slot.

● Check to make sure that your desired ICL class does not conflict with any classes you are taking at TU. Check your faculty's regulations to ensure you do not exceed its maximum credit limit.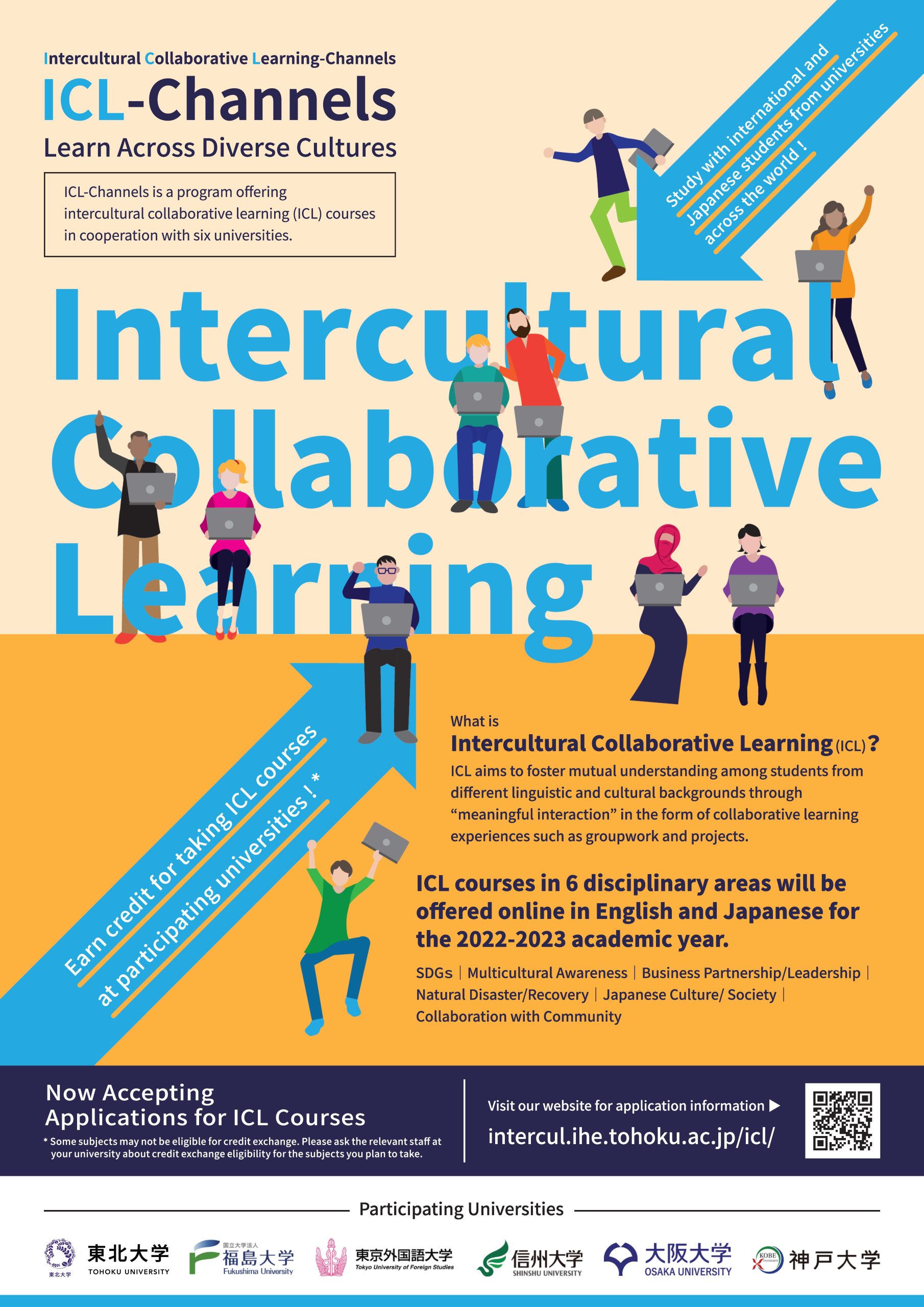 Contact

Tohoku University, Student Exchange Division, ICL Project Office
Phone : 022-795-7820
Email : icl-admin*grp.tohoku.ac.jp
(Please replace * with @)