GLC Activity Reports
The Global Learning Center plans and conducts programs and activities related to studying abroad, language learning, international exchange, and international students. It also holds events such as seminars, lectures, and official ceremonies.

Feb. 15, 2019


International Students Visit Disaster-hit Area on Minamisanriku Very Good Day Tour '19

The Minamisanriku Very Good Day Tour '19 for Tohoku University international students was held on February 6th and 7th in Minamisanriku, a town in Miyagi Prefecture that was heavily damaged by the Great East Japan Earthquake. The tour was organized by the SCRUM International Department. It was attended by 9 international students from America, Italy, Morocco, China, Taiwan, and Indonesia, and 6 Japanese students. The students learned and thought about natural disasters, and interacted with Minamisanriku residents.

Yūki Sanjō, 1st year student, Faculty of Arts and Letters (head tour planner)
At this event we were able to learn how people think about the Great East Japan Earthquake and other disasters through many discussions. It was an extremely valuable opportunity. By studying natural disasters together with international students, I feel we made a small but real contribution to informing the international community and solving the "erosion problem" facing Japan in the wake of the Great East Japan Earthquake. For both the international and Japanese students, the interactions with the local residents were filled with joy, making this an extremely happy and precious experience. I think just having the international students there had an energizing effect on us (Japanese students), the area, and the disaster victims.

This tour was carried out with support from the Nippon Foundation Gakuvo Student Volunteer Center and Yahoo Japan. We also extend our deepest thanks to Mr. Seietsu Satō who provided extensive help with on-site coordination.

SCRUM International Department on Facebook
Inquiries
Rumi Watanabe, Associate Professor, Global Learning Center


022-795-4988

rumi.watanabe.c5*tohoku.ac.jp (please replace the "*" with "@")
Feb. 02, 2019


Global Leaders Award, Winter 2019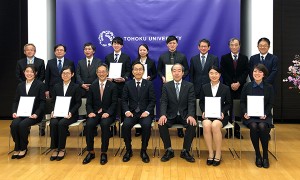 Thirteen students have been awarded the Tohoku University Global Leader certificate for Winter 2019.