GLC Activity Reports
The Global Learning Center plans and conducts programs and activities related to studying abroad, language learning, international exchange, and international students. It also holds events such as seminars, lectures, and official ceremonies.

Feb. 20, 2020


KAKEHASHI Project Exchange Program

On February 18, 2020 the Global Learning Center welcomed 49 students from three Canadian universities (University of Toronto, University of Ottawa, and Carleton University) as part of a KAKEHASHI Project exchange program for promoting understanding of Japan run by the Japan International Cooperation Center. The exchange program was implemented by 14 Tohoku University students. In the morning, the visitors divided into small groups and went on campus tours, conducted in English by the TU students. After lunch, the TU students gave presentations on Japanese culture in pairs and answered questions. Through these activities the participating students were able to actively engage with each other. The TU students in this exchange program are scheduled to visit Canada in March. We hope that this project will create deeper ties between Japan and Canada, creating a bridge between the two countries.
Inquiries
Rumi Watanabe, Associate Professor
Yukiko Shimmi, Senior Assistant Professor
Global Learning Center, Institute for Excellence in Higher Education


022-795-4988


rumi.watanabe.c5*tohoku.ac.jp (please replace the "*" with "@")
Feb. 10, 2020


Global Leaders Award, Winter 2020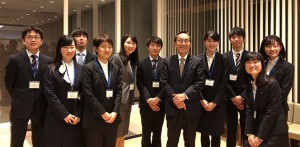 Eight students have been awarded the Tohoku University Global Leader certificate for Winter 2020.
Inquiries
Student Exchange Division


022-795-7820


sub_query*grp.tohoku.ac.jp (please replace the "*" with "@")